The use of automation to simplify life is pervasive and has become essential in almost every business. As new trends in technology promote the addition of innovative concepts, it becomes increasingly vital to implement an automated payroll system in a company. Let's explore the benefits of automated payroll system benefits today's industry in this article.
What is payroll, first of all? The business procedure for paying employees is called payroll. It entails figuring up employee earnings and keeping track of withholdings for payroll taxes and employee perks. The distribution of employee paychecks, annual records of employee earnings, and a company's financial record of its employees can all be included in payroll.
Payroll is necessary for every organization, but it is expensive and labor-intensive to master the procedures, which is why you should automate payroll.
The process of optimizing payroll processing operations using an automated system in order to maximize efficiency is known as payroll automation. So, what is an automated payroll system? Automated payroll is a way to streamline the process of paying your employees. You may reduce the amount of time you spend on chores like tax preparation, direct deposit processing, payroll report generation, and tax withholding calculations by using payroll automation software. Without payroll automation, each of these procedures would take much longer to complete. You can concentrate your efforts on business expansion and leave payroll to the automation software used by a top payroll company in India.
---
What Tasks May an Automated Payroll System Carry Out?
An automated payroll system can carry out a variety of company tasks. Payroll automation aims to streamline the duties typically performed by the internal payroll manager.
Among other things, an automated payroll system can carry out the following tasks:
Track and update payroll data
Run payroll
Time tracking
File taxes
Calculate overtime, double-time, bonuses, raises, etc.
Tax reduction calculation
Improved recordkeeping
Both the employer and the employee's financial planning
Make changes to important documents
All of this may be done for you in a matter of minutes by an automated payroll system. You can see how much time this can save you over the course of the month. So what's holding you back from implementing automatic payroll?
---
Let's Check Out the Top Benefits of Automated Payroll
1. Easy tracking of the working hours
In a typical workplace, you would always observe the manager or supervisor closely monitoring and directing the workers. Observing them, we can see that managing the staff and keeping track of their attendance and working hours at the workplace is a difficult job for the manager and supervisor.
As the business expands, so does its workforce gradually. And keeping track of every employee's working hours becomes more challenging, time-consuming, and chaotic. Automated payroll management software could make this simple to manage.
By supplying information regarding the employees' login and logout times, as well as break periods, the automated system can effortlessly keep a record of their working hours. The manager and supervisor can then concentrate on things that are more crucial to the business.
2. Make the appropriate adjustments to the pay structure
The conventional payroll technique places more of an emphasis on the worth of the business than the standard form of remuneration. The management can create and implement appropriate wage structures for certain employees with the use of automated payroll solutions. The system also enables the management to quickly alter or adjust the salary structure as necessary. This aids in locating and resolving any irregularities in the compensation package offered to employees.
Automated payroll methods are much better for the business. The majority of their bookkeeping and financial issues are resolved, and it also aids in tracking the finches.
3. Quick payroll calculations
Payroll calculating by hand is a difficult and time-consuming operation. The HR division must compile data from many sources and then do intricate computations. It takes a lot of time to manually compute and compare data while making spreadsheets.
The majority of problems may be swiftly and easily resolved with HR automation software. With the automation system, you just need to enter the essential data; all other calculations, including basic wage, benefits and perks, deductions, overtime pay, and so on, will be handled by the program.
Additionally, it offers accurate payroll calculations and statistics. As a result, the HR department's work is effective and efficient.

4. Easy pay slip generation
The HR department workers find the conventional techniques of pay slip generation to be tedious and time-consuming. When a pay slip needs to be changed or modified, things get more difficult.
Changes will put everything back to square one, and the HR staff will have to start from scratch to develop the new pay slip because the HR team thoroughly examined all the criteria before creating the pay slip.
With the payroll system automated, all the extra work and headaches may be easily avoided. The automation software will make all the salutations and changes in real-time after gathering all the data.
After careful automatic computations, this will provide you with the right values, making the process of creating pay slips quick and simple with very little potential of error.
5. Control the cost of compensation
The automation of the payroll system made it simple for the HR team to access both internal and external payroll data. The HR staff can simply develop, execute, and explain need-based, distinctive payroll models using this system while staying below the allocated budget.
This will aid the business in increasing payroll efficiency and better managing compensation costs.
HR may now exert better control over the costs associated with the payroll system as a result of the improvisation in the models of compensation. Payroll strategies will become more effective and structured as a result.
6. Better tax management
Everyone wants to complete tax compliance quickly and painlessly. Prior to the creation of the pay slip, it is one of the most difficult jobs that an organization must complete. It is not an easy operation to add the taxation components to the payroll system because many factors need to be taken into account.
Some of the most difficult tax computation jobs are made simpler by the automated payroll system. The software minimizes errors, secures data, and lowers the likelihood of data theft. Additionally, it keeps workers informed about the payroll rules of the organization, which raises their level of job satisfaction.
7. Enhances efficiency
Hand-processing payroll takes a lot of time and resources that may be used on other business issues that need your focus. You can save time and money by streamlining complex payroll procedures with an automated payroll solution. Additionally, it aids in the organization of payroll records for future use.
8. Minimizes the scope for error
The risk of human mistake that might occur with manual data entry for payroll computations is also removed by using automated software. For the maximum level of accuracy, payroll software uses cutting-edge technology to calculate figures like deductions and overtime compensation. In contrast to a paycheck calculator, you don't have to manually enter the information.
9. Assures timely and accurate payment of employees
For your company, your employees work incredibly hard. Payroll automation helps you to ensure that they are paid accurately and on schedule. Payroll automation makes it easier to meet payment deadlines and determine the right withholdings for your employees.
10. Assures them that they are adhering to regulations
Taxes are undoubtedly difficult to understand, but adopting automatic payroll software helps a little bit. You won't need to worry about things like manually deducting federal income tax from employees' paychecks thanks to payroll automation. This will not only make things simpler for you, but it will also give you peace of mind knowing that you are adhering to the regulations.
---
Rundown
To maintain contact with the ideal payroll service providers, connect with a high-quality automated payroll system, and improve the efficiency of your employment process. You may always count on the recruitment experts for their assistance with a variety of payroll services.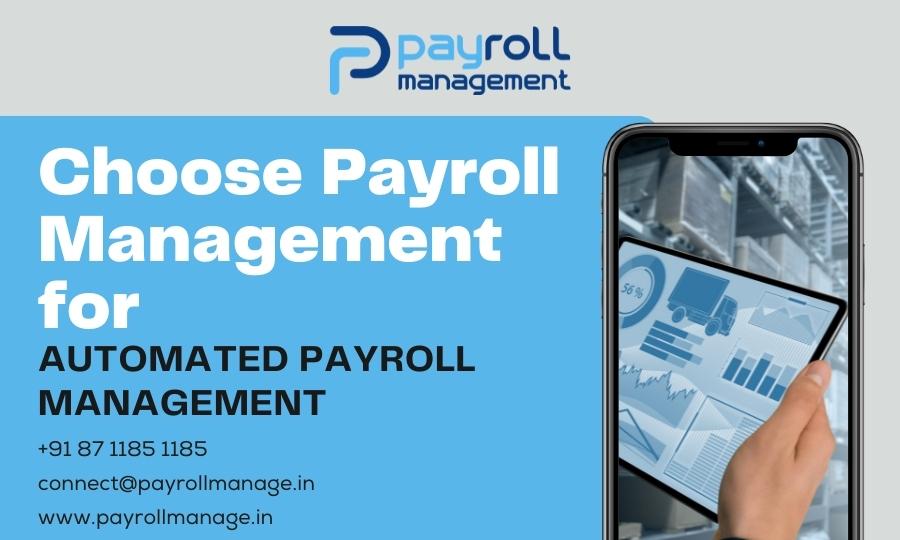 Also read: What Makes Payroll Management Your Best HR Partner?